Legacy
---
MY ANCESTOR
(Thomas Priest)
Family tradition was that three brothers got in trouble in England and came to America.
Research revealed that Thomas Priest/Preist and two other men with that surname were part of the 1685 Monmouth Rebellion.
The Monmouth Rebellion, also known as the Pitchfork Rebellion, the Revolt of the West or the West Country rebellion, was an attempt to overthrow James II. James II was a Roman Catholic and some Protestants under his rule opposed his kingship.
Many factors contributed to the rebellion, but it seems the major reason people got involved was the lack of freedom of worship of protestant nonconformists.
England's West Country, including Somerset, was a Protestant stronghold at the time of the death of the Protestant King Charles II in February 1685. The new King, Charles' brother James, Duke of York, was Roman Catholic. Charles II's Protestant but illegitimate son, James Scott, the Duke of Monmouth (Wales), got the idea that all England would support him in a Protestant rising.
The Duke of Monmouth issued a declaration for "the Defence and Vindication of the Protestant Religion, and the Laws, Rights, and Privileges of England. As Government was originally instituted by God, and this or that Form of it chosen and submitted to by Men, for the Peace, Happiness, and Security of the Governed, and not for the private Interest, and personal Greatness of those that rule; so that Government hath always been esteemed the best, where the Supreme Magistrates have been invested with all the Power and Prerogatives that might capacitate them, not only to preserve the People from Violence and Oppression, but to promote their Prosperity; and yet, where nothing was to belong to them by the Rules of the Constitution, that might enable them to injure and oppress them."
Monmouth landed at Lyme Regis on June 11, 1685 with just over eighty men. In the following few weeks, his growing army of nonconformists, artisans and farm workers fought a series of skirmishes with local militias and regular. He marched to Somerset, was crowned king in Chard and again in Taunton on June 21. Onwards to Bridgwater, to a civic reception and another coronation at the Cornhill.
On July 6, 1685 the Duke led his untrained and ill-equipped troops out of Bridgwater at around 10:00 pm to undertake a night-time attack on the King's army. Monmouth's forces were unable to compete with the regular army and the rebellion ended with the defeat of Monmouth's army (between 3200 and 7000 men) at the Battle of Sedgemoor (in Somerset). His untrained supporters were quickly defeated by the professionals and over a thousand of Monmouth's rebels were killed by cannon and musket-fire.
Monmouth was executed for treason on 15 July 1685. Many of his supporters were tried during the Bloody Assizes**. The Bloody Assizes were a series of trials in Winchester (started on 27 August 1685) of Monmouth's supporters in which 320 people were condemned to death by public hanging, disemboweling and then quartering*, after which the heads and quarters were dipped in pitch and salt and sent to villages around to be displayed in public on poles. Many who were condemned to death had their sentences reduced to transportation – in effect, long years of slavery in the colonies.
Around 800 sentenced to be transported to the West Indies, for ten years' hard labour to be worked or flogged to death on West India plantations.
Thomas Priest, Lawrence Priest, and Henry Priest were to be transported.
Thomas was a serge weaver (an artisan who worked with serge, wool and other fabrics). He was one of one hundred prisoners, to be transported from Taunton, by John Rose, a merchant of London on December 9, 1685.
Ships left Weymouth and Bristol with the transportees below deck – so crammed that they could not lie down without lying on someone else. The diseases and infections (from wounds still unhealed following the Battle of Sedgemoor) which had characterized the stay of many in Somerset and Dorset jails, were carried forward into these holds.
Each man transported would be worth more than £12 (pound-about 240 pennies), a source of considerable profit for the Crown. Those transported were treated worse than slaves. This was because unlike slaves, who had to be bought and paid for, the prisoners cost nothing and were therefore expendable.
The conditions on these ships rivaled those on slave ships between West Africa and the Americas. One fifth of those shipped were flung to the sharks before the end of the voyage. They were never allowed to go on deck. And in the dark, confined space below, the prisoners were cramped and left to wallow in waste and disease.
There were sixty-seven prisoners delivered by Captain Charles Gardner, Commander of the Jamaica Merchant, to Charles Thomas and Company, and Thomas Sadler, for account of John Palmer, John Richardson, Samuel Young, and William Rose the March 12, 1685. Thomas was one of a group of seven under the master Colonel Thomas Colleton. Henry (a plowman) was under Robert Kelly. Details of Lawrence are unknown.
According to accounts of prisoners sent to Barbados previously, a particular plantation had 100 "Christians," 100 Africans and 100 "wilde" or Amerindians. They were fed largely on potatoes and cassava, and forced to do the "work usually performed by slaves." Barbados was the "Protestants' Purgatory": they themselves were "Barbados merchandize," "brought over in a coffin," and "sold as beasts" on their arrival by the "men-stealers" or "merchants of Babylon" who had shipped the prisoners there. They were yoked to ploughs, whipped at their masters' pleasure and living in "sties worse than hogs". They could not marry during that time and, if they attempted to escape, could be whipped and branded on the forehead with the letters "FT" for "fugitive traitor."
A change of government at home (The Glorious Revolution) in 1689 forced a revision of policy towards the prisoners, and in February 1690 free pardons were issued. They were not given any cash at the end of servitude, and so were unable to return home.
Thomas, somehow, made it to Virginia.
Most of the above is snipped from:
https://en.wikipedia.org/wiki/Monmouth_Rebellion
http://thewhiterajah.blogspot.com/2017/04/rebels-and-redlegs.html
https://libguides.law.uga.edu/c.php?g=177206&p=1164802
https://quod.lib.umich.edu/e/ecco/004840465.0001.000?rgn=main;view=fulltext
https://merriottfamiliesgenealogy.net/history_of_merriott/the_monmouth_rebellion/
http://convictvoyages.org/wp-content/uploads/2017/02/Caribbean.pdf
https://bitaboutbritain.com/sedgemoor-1685/
http://www.zoylandheritage.co.uk/the_battle.htm
https://bridgwater-tc.gov.uk/history/17th-century/monmouth-rebellion/
https://highlander.com/wp-content/uploads/2019/02/John-C-Hotten-The-Original-List-of-Persons-Who-Emigrated-to-America-1600-1700.pdf
*Assizes (uh-SIZE): a court which formerly sat at intervals in each county of England and Wales to administer the civil and criminal law. In 1972 the civil jurisdiction of assizes was transferred to the High Court, and the criminal jurisdiction to the Crown Court.
**The full punishment for a traitor could include several steps. Firs,t he was drawn, that is, tied to a horse and dragged to the gallows. The remainder of the punishment might include hanging (usually not to the death), usually live disemboweling, burning of the entrails, beheading, and quartering. This last step was sometimes accomplished by tying each of the four limbs to a different horse and spurring them in different directions.
https://www.britannica.com/topic/drawing-and-quartering
THE PRIEST PREMISE
(June 2011)
The father/son connections in the following are reasonable speculations until John Priest (1740ca). At that point I follow my own family line.

Thomas 1 and 2 are very likely father and son. After that, to indicate the father-son connection is not proven, a "?" follows the number (Thomas the 3rd, the 4th, etc.)
The 37-year gap between Thomas2 and Thomas-3 may not be a problem due to the 36 year gap between John Mason and William Odell, the 41 year gap between William Odell and Howard Mason, and the 45 year gap between Howard Mason and Karl Clarence. Or, there may be a generation between Thomas 2 and 3--ca 1650. (Karl Priest)
1590ca Lawrence Priest born in (probably Somerset) England. Had son, Thomas.
1610 Thomas-1 christened in Somerset, England
1634Thomas-2 christened in Somerset, England
1671 Thomas-3? christened in Somerset, England (He had brothers Laurence and William.)
From Priest family tradition three brothers came to America due to political trouble. One brother died, one went to SC or GA, and the other came to VA. The date given (from two sources) was "about 1700" and "about 1720". This was first recorded by the early 1900's KY and MO branches of the Priest family (who were likely in contact with each other) and by George Foster, a genealogist, who may have gotten the information from one or both of these families. The dates could represent the year the man arrived in VA or arrived in the Northern Neck of VA.
In 1685 several men were convicted of treason for participating in Monmouth's Rebellion. Many were executed. Others were exiled. In October Monmouth's rebels Thomas-3?, Laurence, William, and Henry Priest were convicted of "high treason" and sent from Taunton, England aboard the Jamaica Merchant (transported by John Rose, a merchant) to Barbados. They were delivered on 12 March 1685 by Charles Gardner (captain of the ship) to Charles Thomas & Co. and Thomas Sadler for the account of John Palmer, John Richardson, Samuel Young, and William Rose.
Thomas-3? was a serge weaver (wove the coarse country cloth of wool) "about 20 years old" and was sold for ten years to master Col. Thomas Colleton. >>There is a problem here, because Thomas-3? would have been only 14 years old when the rebellion took place. The age also conflicts with the age of the prisoner shipped to Barbados. By law the Captain of a ship only had to list male passengers over 16. Note: At age 13-14 Karl Priest passed for an 18-year-old in order to participate in a professional baseball tryout camp.

1691 The prisoners in Barbados were released after which many migrated to what is now the southern United States. James Colleton (Note the name of Thomas-3?'s master.), of Barbados, was commissioned governor of the Carolinas and arrived there from Barbados in 1686. Several land grants went to Peter Colleton (s/o Thomas Colleton) between 1684-1687. Also, Indian and pirate troubles wreaked havoc on the Carolina economy circa 1690-1720. The Governor of Virginia even had to send troops at least once.
1700ca Thomas-4? born (This is speculation. According to undocumented genealogies Peter arrived in VA.)
1717/18 Thomas-4? was a servant to schoolmaster David Straughan in Northumberland Co., VA (This county is in the Northern Neck. County seat = Heathsville. It is SE of Warrenton.)
1718/19 (May 20) Thomas-4? named in will of mother Margaret (Margtt) Priest (Preist) of Elizabeth City Co., VA. Elizabeth City Co, VA Deeds etc. 1715-1721 975.541 Pen
1720ca Thomas-5? born (This is speculation. According to undocumented genealogies Peter arrived in VA. Some think this man was Thomas who died 1795ca.)
1739 Thomas-5? was a chain carrier in Prince William Co., VA.
1739 Thomas-4? (or -5?) lived in Elizabeth City, VA
1741 Thomas Sr.-6? born (Bible record) (died 1836) See 1785.
1741 Thomas-4? (or 5?) accused of carrying away an infant from Northumberland Co, VA
1744 Thomas-4? (or 5?) was a plaintiff in a court case in Frederick Co, VA
1751 (and 1752, 1753, 1754) Thomas-4? (or 5?) was on Rent Rolls of Prince William Co, VA.
1756 Thomas-5? willed his Newport News, VA plantation to his son Thomas (other children are James and Martha).
1759 Thomas-4? (or 5?) and Thomas Jr.-5? (or 6?) were on the Southern Dist. of Fauquier Co. Tax List.
1766 Thomas-4? (or 5?) [with Thomas Jr.-5? (or 6?) and Wm.] had 100 acres and 3 white tithables in Fauquier Co, VA
1767 Thomas-4? (or 5? or 6?) appraised estate of Mary Tyler in Fauquier Co, VA
1769 Thomas-6? requested back pay for service as a volunteer in Capt. Russell's company of militia from 15 May 1764 until 15 Dec. 1764
1770 Thomas-4? (or 5? or 6?) appraised estate of Dr. James Drummond of Fauquier Co, VA
1771 Thomas-4? (or 5? or 6?) had land on Goose Creek (Leeds Parish) in Fauquier Co, VA
1772 Thomas-4? (or 5? or 6?) is member of Goose Creek Baptist Church in Fauquier Co, VA
1773 Thomas-4? (or 5? or 6?) witnessed deeds for John Rector (Leeds Parish) in Fauquier Co, VA. Thomas signed by mark.
1773 Thomas-4? (or 5? or 6?) had land on Goose Creek (Leeds Parish) in Fauquier Co, VA
1774 Thomas-4? (or 5? or 6?) had land on Goose Creek (Leeds Parish) in Fauquier Co, VA
1777 Thomas-4? (or 5? or 6?) had land on Goose Creek (Leeds Parish) in Fauquier Co, VA
1777 Thomas-4? (or 5? or 6?) was on Rent Rolls in Fauquier Co, VA.
1782 Thomas-4? and 5? (or 6?--there were two of them) was on the tax list in Fauquier Co, VA.
1783 Thomas-4? (or 5? or 6?) was victorious plaintiff in suit against John and William Turley in Fauquier Co, VA.
1785 Thomas-4? (or 5? or 6?) was on the District 2 tax list in Fauquier Co, VA. He was taxed for 8 whites, a 20x16 house and four other houses.
1785 Thomas Jr.-7? born (Bible record) See 1741.
1787 Thomas-4? (or 5? or 6?--there were two of them) was on the personal property tax list in Fauquier Co, VA. Also listed were James, Mason, Peter, Rodom, William, and two Johns.
1790 Thomas-5? recorded his will in Fauquier Co, VA. He was in perfect health. Wife was Sarah. Mentions children Mary and Peter and other unnamed children. Sarah and son Thomas-4? were executors. Signed by P mark. Witnessed by Richard and Edward Larrance.
1795 Thomas-5? had his will proved in Fauquier Co, VA (His widow was Sarah. Children: Thomas-6?, Peter, Mary))
1800 Sarah was living in George Lowry's part of District 2 in Fauquier Co, VA. She was taxed for the free tithable Willis Laurence.
Children of Thomas5? and Sarah (According to George Russell none of these are verified. William mentioned his brother John in his will.)
Thomas Sr.-6? (1741-1836) He married a Mary or Sarah Stark and two of their children were Peter (1780-1868) This is in a Bible I have a copy of and I have his picture. He seems to have been a prominent man.) Thomas Jr.-7? (b. 1785)
William (?-1781)
George (1748-1829 in KY)
Peter (1756ca-1835 in KY)
Richard (died in KY)

John (1740ca?-1809). See Priest line below
Elizabeth, Sarah, Nancy, and Mary.
ALL BELOW ARE POSITIVE CONNECTIONS TO THE BRANCH OF KARL C. PRIEST.
1740ca John (possibly son of Thomas-5?)
1762 Mason
1795Willis
1826 John Mason
1862 William Odell
1903 Howard Mason
1948 Karl Clarence
1974 Aaron Caleb
2014 Gaaron Caleb and 2019 Grayson Aaron
MISC NOTES
The first recorded Priest named Peter was a son of Thomas-5? born 1756ca.
Much information was obtained from John Gott, Carol Fox, and George Russell.

Fauquier Co. came from Prince William Co. in 1759.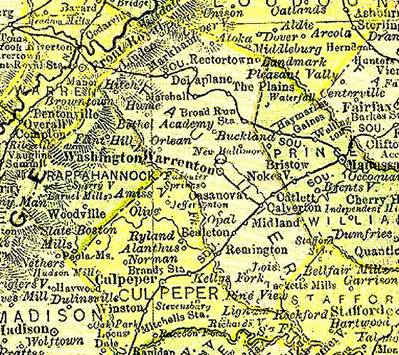 1895 Fauquier Co.
http://www.livgenmi.com/1895/VA/County/fauquier.htm

North Wales
An historic plantation in Fauquier County, Virginia near Warrenton, Virginia.
http://en.wikipedia.org/wiki/North_Wales_(Warrenton,_Virginia)

One family tradition says the original Priest in VA came from Wales. (Karl)
Northampton County
1664 A Thomas was in a property transaction in N'ampton Co., VA (Cavaliers and Pioneers). Other Priests were there earlier.
1673 "Tho. Preist" was one of 20 persons getting land from Isaac Dicks (Dix): "1000 acs. N'ampton Co., being a neck bet. 2 brs. of Nuswatocks Cr., 27 may 1673, p. 460, 400 acs. granted to Mary Lewis 12 Sept. 1664, deserted & now granted by order, & c. Trans. of 20 pers:..." Cavaliers & Pioneers Vol. 2 pg. 127 Patent Book No. 6.
Northampton County is the southern 35 miles of a 70-mile-long stretch of the Delmarva Peninsula known as Virginia's Eastern Shore…(and) is cradled by the Atlantic Ocean and Chesapeake Bay. (Southeast of Warrenton. Karl)
http://www.co.northampton.va.us/
Eastern Shore
Consists of two counties (Accomack and Northampton) on the Atlantic coast (and is) geographically removed from the rest of Virginia.

http://en.wikipedia.org/wiki/Eastern_Shore_of_Virginia
Elizabeth City
Re 1718-19 will of Margaret Priest:Elizabeth City was one of four incorporations established in the Virginia Colony in 1619 by the proprietor, the Virginia Company .
The plantations and developments were divided into four "incorporations" or "cities", as they were called. These were Charles City , Elizabeth City, Henrico City , and James City . The latter included the seat of government for the colony at Jamestown . Each of the four "citties" (sic) extended across the James River , the main conduit of transportation of the era. In 1634, under Royal authority, a portion became Elizabeth City Shire , later Elizabeth City County .
http://en.wikipedia.org/wiki/Elizabeth_City_(Virginia_Company)
Elizabeth City County was a county in southeastern Virginia from 1634 to 1952. Originally created in 1634 as Elizabeth River Shire, it was one of eight shires created in the Virginia Colony by order of the King of England. In 1636, it was subdivided, and the portion north of the harbor of Hampton Roads became known as Elizabeth City Shire. It was renamed Elizabeth City County a short time later. The town of Hampton, established in 1680, became the largest city in Elizabeth City County, and was the county seat. In 1952, Elizabeth City County merged with Hampton and is today the independent city of Hampton. The city also includes the former Town of Phoebus, resulting in modern-day Hampton encompassing nearly all of what was Elizabeth City County. (Hampton is far southeast of Warrenton.—KCP)
http://en.wikipedia.org/wiki/Elizabeth_City_County,_Virginia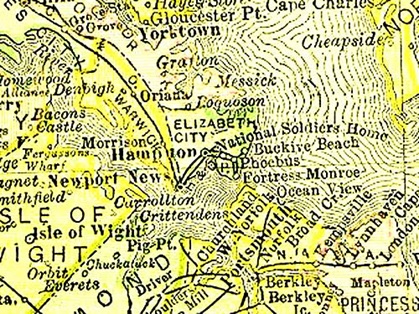 1895 Elizabeth City County
http://www.livgenmi.com/1895/VA/County/elizabethcity.htm
Elizabeth City County is distant from the Northern Neck, and was not a source of Northern Neck settlers. I have many records of people named "Thomas Priest" living distant from the Virginia Northern Neck during the lifetime of Thomas of Fauquier County. (George Russell)
Research Plan
According to widely publicized sources the progenitor of a prominent line of the Virginia Priest family was Peter. According to an expert researcher (George E. Russell) that is incorrect. Mr. Russell thinks the name is Thomas who is listed on July 6, 1739 as a chain carrier in Prince William Co., VA.
The literature-search preliminary phase of the project has been completed by Mr. Russell.
Mr. Russell states: "In-depth research in unpublished primary documentary records in Virginia's Northern Neck might bring to light some evidence pertaining to Thomas Priest's earlier history and origin. Such research would have to include investigations in the original records of Fauquier, King George and Stafford counties (from which Prince William County was formed in 1730), as well as down-river in Northumberland County (in which a Thomas Preist, servant boy, was living in 1718).
"Because of severe losses of original records in this area of Virginia, pickings are very slim. I would not be optimistic about the possibility of discovering "new" records which would help to solve this problem. We appear to be dealing with a very young man, probably even a boy, who appeared alone in Virginia without proven kinsmen, associates, or employer, and was the first of his surname in Prince William County. While an exhaustive (and expensive) study of unpublished records might bring to light some additional interesting biographical details, chances are rather slim that there would be a "break-through" discovery concerning Thomas's origin or parentage.
"The suggested next phase of research required to reconstruct this family's history and origin is to investigate the available county court and other record sources, according to the following schedule:
"One: Fauquier County records at Warrenton for period 1759-1800.
"Two: Prince William County records at Manassas for the period 1730-1760.
"Three: Stafford County records at Stafford for the period before 1730 (when Pr. Wm. C. was formed).
"As indicated in the account of Thomas Priest, he may possibly have came to (present) Leeds Parish, Fauquier County, from old Northumberland County, the records of which should be examined for the period 1700-1750. These records are located at Heathsville.
"Based on the available records series described in The Virginia Genealogist articles, set up a separate check list for each county. As an illustration example, I am mailing (via USPS) a sample form check list which I have used in Maryland research. Your check list might be headed: FAUQUIER COUNTY RECORDS 1759-1800, under which you could have three columns, headed: RECORD TYPE, CHECKED, NOTES. At home in the first column, list/enter the title of each of the available record series to be examined at the court house. (See my example form for possible types of records to be examined.) Armed with such a page, at the court house, which will have the records volumes out on clearly labeled open stack shelving (or the clerk can assist in locating specific record volume), you can pick the appropriate volume (based on years covered), and - using the volume index - check for any PRIEST references. Any finding will probably be pertinent (because Thomas's family was the only one in the County). Photocopy the inclusive pages dealing with the specific record, making certain that you note on the copies the full title of the record series, with volume number, and page number(s). Example: "Fauquier Co. Land Records, vol. 4 (1772-1775), pages 33-35." Be sure to read through each record to its end, so as not to overlook any important facts/codicils/probate date/addenda (example: wife releasing her dower right; widow renouncing the will). Then, having exploited that specific volume, check it off on your list, making note of any significant details or lack of findings. Move on to the next record to be examined. And so on. The work could be speeded up considerably if you had a helper to handle the photocopying while you move on to searching another volume. Use your court house time to check records; study/analyze/decode/translate your findings later.
"If the majority of the county records to be examined are available on microfilm at the State Library, you would definitely do better to start at Richmond and devote several days to the effort there. Never having done any research there, I don't know how extensive their holdings are. (Here in Maryland, we do all of our research at the State Archives and keep the microfilm reader/printer running all day, and rarely have to go to a county court house.)
"When two adult men of the same name were living in the same locality at the same time, they were normally distinguished by appending "Senior" for the elder, and "Junior" for the younger. The approximate birth year of the younger man can be estimated by subtracting 21 from the year in which he first is described as "Junior." The year of death of the elder can sometimes be estimated by determining the year in which only one man of this name appears and without "Junior" after his name. There is always an overlapping "gray" period or record, in which we cannot be certain which of two different men are being mentioned. Of course, as time passes and old timers die, new men of the same name are maturing and the suffix will change. (i.e., junior may become senior.) My write-up on Thomas Sr. was not intended to include records of Thomas Jr." (He has a separate file here).
George Ely Russell, CG, FASG, FNGS Priest Genealogical Collection: North American Priest families 1600-1850 5110 Garland Court IJAMSVILLE MD 21754-9630 E-Mail: GeorgeERussell@msn.com
Northern Neck
The northernmost of three peninsulas (traditionally called "necks" in Virginia) on the western shore of the Chesapeake Bay in the Commonwealth of Virginia. This peninsula is bounded by the Potomac River on the north and the Rappahannock River on the south. It encompasses the following Virginia counties: Lancaster, Northumberland, Richmond, and Westmoreland. (Lots of history occurred in this area.)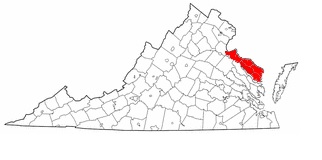 http://en.wikipedia.org/wiki/Northern_Neck_of_Virginia